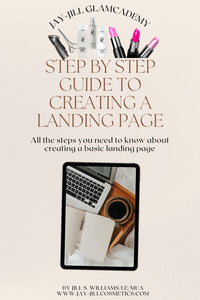 Calling all Spa, Beauty, Health & Wellness Entrepreneurs who put the "I" in TEAM and Entrepreneurs who are simply struggling with getting in front of new clients and customers. 

Do you ever ask yourself what in the world is a landing page ?  Or where do you go to create a landing page? No worries, I will build it for you. 
✋️ NO REFUNDS ✋️ MY TIME IS VALUABLE AS IS YOURS. RESPECT MY TIME AS I WILL REPECT YOUR TIME IN RETURN. PLEASE ALLOW 48-72 HOURS FOR COMPLETION WHICH WILL DEPEND ON YOU GETTING THE INFORMATION REQUIRED TO COMPLETE.

You will need:
*Pictures with product description
*Free version of AWeber click below: *https://www.aweber.com/easy-email.htm?id=536337
*Minimum of 2 edits 
*Please have all info and images once requested and respond back in a timely fashion. 
If you need SMS Text Messaging click here: Txt180https://www.txt180.com/track/jayjill/
P.S 
Keep in mind, I will need your sign in and password to Aweber (This is the only platform I use, I apologize for the inconvenience)
Thank You 
JayJill